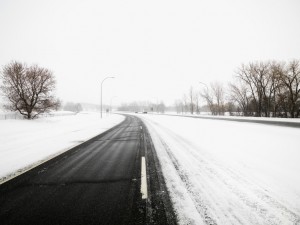 It is that time of the year once again when temperatures may plunge at any moment, leaving freezing conditions that see our roads covered with ice.
Although it comes around on an annual basis, it might nevertheless be helpful to review some of the dos and don'ts when driving in icy weather:
Do you need to?
probably the best piece of advice for driving in icy weather is the simplest – don't do it at all if you can possibly avoid it – according to official government advice and that of the major motoring organisations;
if your journey is essential, you might want to listen out for local weather reports and warnings of freezing conditions or snow;
Emergency kit
if you need to set out in the ice or snow, it is important to remember that the journey is likely to take much longer than normal and to be prepared for the conditions you are likely to encounter;
a basic emergency kit, for example, is likely to include additional warm clothing, gloves and boots, a shovel, ice-scraper and de-icing fluid, a torch, jump leads and a first aid kit;
in the event of a breakdown or getting stuck in ice or snow, you might also want to have to hand a flask of something warm to drink and emergency, non-perishable, food supplies;
let someone know that you are setting out and where you intend to go – if possible estimating your likely time of arrival;
Getting ready to go
before setting off, there are a number of common sense precautions you need to take in readiness for driving in icy conditions;
make sure your mobile phone is fully charged;
use your ice scraper and de-icing fluid to remove all ice (and snow if it has built up too) from all the windows of your vehicle;
lights – and the registration plate – need to be visible, so these should be cleaned;
clean and de-ice your mirrors; and
make a final check of the weather reports to see what conditions you may encounter on your journey and whether these are likely to get any worse;
Driving
unless you are accustomed to it, driving in icy conditions may prove unnerving to say the least and requires a different approach to controlling the car than you might otherwise have learned;
probably the biggest difference is likely to be your stopping distance – as much as ten times the gap you might normally leave, according to the RAC;
however carefully you drive, there is always the risk of skidding on ice – if that happens, remember to steer into the direction which the skid is taking, do not brake at all harshly and remember to turn the steering wheel gradually;
easy does it are the watch words for brakes, steering and changing gear – anticipate the need to use the controls well in advance in order to avoid sudden moves;
in order to improve traction – the tyres' grip on the ice – you might find it helps to choose a higher gear when pulling away from a stop;
remember that black ice in particular is practically impossible to see, so anticipate its presence rather than being caught out by it.
Icy weather may create especially demanding driving conditions, so it is sensible to make only essential journeys and even then after you have done a little preparation and follow a few simple rules about driving smoothly and not erratically.