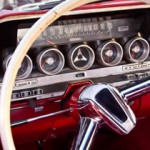 Did you know that classic car insurance is frequently cheaper than the premiums you pay for standard motor insurance?
Frequently, this is less a case of classifying the car as a classic – a definition on which there is in any case no universal agreement – but the way in which such vehicles tend to be owned and used.
To qualify for the potential discounts on offer, therefore, here are a few top tips on buying classic car insurance:
Mileage
any kind of insurance is about risk and as far as cars are concerned, the more often and the greater the distance you drive in your car, the higher the risk;
classic cars, on the over hand, may be so prized and valued that their owners restrict their use to a much lower annual mileage;
if you agree to a lower mileage – of between 3,000 and 5,000, a year let's say – you are likely to qualify for cost-saving classic car insurance;
although any such mileage limitation may be subject to negotiation between you and your insurer, it is important to remember that if you exceed the agreed cap and have an accident, your insurance cover may be invalidated;
A classic second car
a typical reason for your being able to restrict annual mileage in this way is because your classic car is your second car – your principal car, which you use for running to the shops, taking the kids to school, your daily commute or a hundred and one other uses continues to take the main strain and, therefore, the greater risk;
whether or not you are looking to insure both cars with the same insurer, which might in itself attract a discount, it is important to let your classic car insurer know that it is your second car – giving you greater flexibility in negotiating a realistic annual mileage cap;
insuring a classic second car with the same insurer might also be easier if you have already built up several years of no claims discount;
Parking
insurers typically take into account the fact that classic cars tend to be looked after rather more carefully than the standard vehicle;
if there is competition for parking space in the street, on your drive, or in a securely locked garage, for example, the classic car is likely to steal pride of place in the garage;
Specialist classic car insurance
it might be apparent that securing all the potential benefits and discounts in buying classic car insurance might be less straight forward than arranging standard motor insurance;
If you own a classic car, therefore, you might want to investigate the possibilities not only of securing the cover you need, but doing so at a competitive premium rate.